Serving Tampa Bay Since 1979
Fix your plumbing problems by contacting Friend's Plumbing for your sewer, water heater, softener, and house plumbing repair needs. Since 1979, our family owned plumbing business has been helping residential and commercial plumbing customers in the Tampa Bay and surrounding areas.
call us today!  (727) 428-0323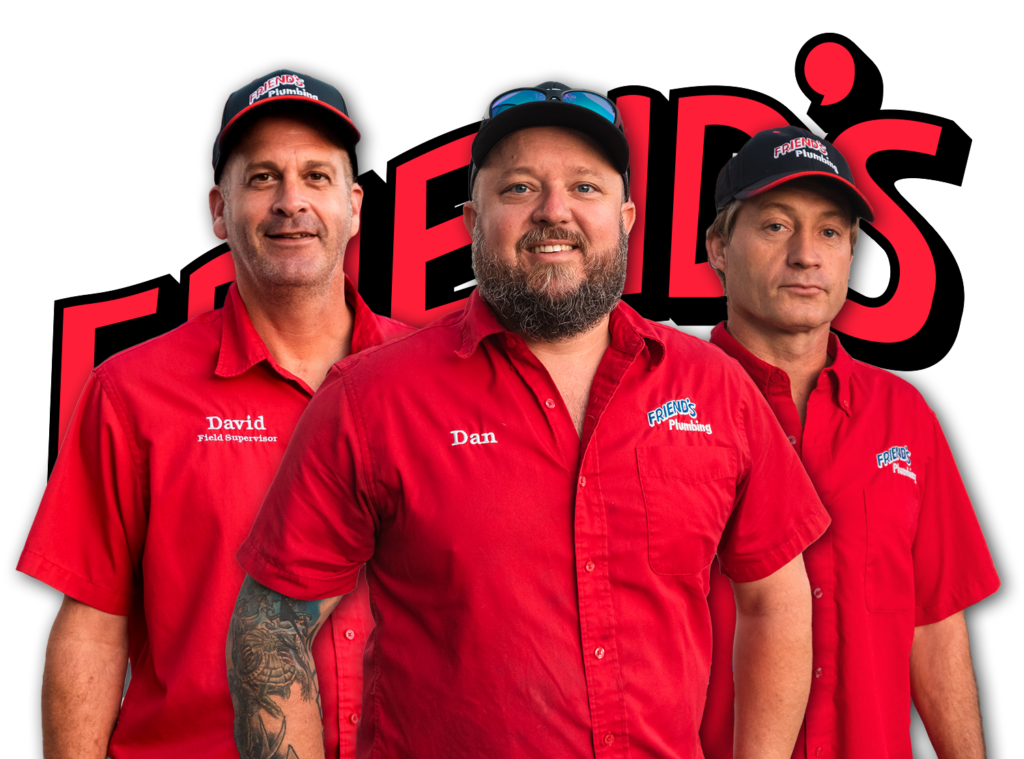 When the indoor plumbing does not work properly it can be extremely difficult to function. That is when it is important to find a reputable plumbing company that you can depend on for a prompt and quality plumbing service. Our licensed and highly trained plumbing service technicians use only the most reliable equipment to provide you with the best plumbing services possible. We are fully licensed, bonded, and insured for your protection. For on time and under budget plumbing installation and repairs, call one of the best plumbing contractors in the area where our experience will give you the results you expect.
What Friend's Plumbing Has To Offer
You can count on Friend's Plumbing to take good care of any plumbing issue that you are having. Most importantly, they are extremely customer service oriented. If you have any issue with their service they will treat you with respect and take care of the issue. A big Thank You to DJ for his very professional service.
Always an excellent experience with this company.. Alex did a super job taking care of my clogging issues. In the past Freind's plumbing has serviced my waterfront condo in Tarpon on several occasions, when roots had grown in the pipes. Their prices are very reasonable and fair. As a mobile home dealer, and having used the services of many plumbers thru out the county in the last 25 years, Freind's stands out as one of the very best companies I ever dealt with. And I really mean this for real! they are the best in my opinion.
Excellent company! My family has used them many times over the years and they saved us again on New Years Day. Jeremy showed up on time and was very courteous and professional. Finished the job (clogged sewer line) without a problem and their prices are good. Very happy to be able to call on them when we need them.
Had a toilet replaced and our technician Mario did a very thorough job cleaning out and replaced our old toilet. Friends Plumbing does a great job explaining our options and keeps the work area clean , would definitely recommend their services.
Very impressed, professional and helpful. Doc was there well within the expected time-frame, took the time to call and let me know that he was on the way and he quickly and efficiently solved my problem.
I'm really impressed with the this company! George was my tech and he went above and beyond! I had some hardwater stains in my sink from a leaky faucet that he scrubbed clean which was so not needed but shows how exceptional George is! I've had other plumbing companies do repairs but Friend's did it perfectly for a very reasonable price. I told George I'll be recommending him to everyone I know.
I have been a customer of Friends Plumbing for twenty years and have always had excellent service, whether it was an emergency call or a regular appointment. I will always recommend Friends Plumbing and will continue to be a loyal customer. Thank you so much, David I cannot tell you how much I appreciate your hard work and help. Friends is the best!
We are a family owned Plumbing business that is proud to serve Pinellas, West Pasco, & West Hillsborough County with quality service and fully trained technicians.
Westchase
Citrus Park
Town & Country
Odessa
Lutz
Seminole
Carrolwood
Holiday
Gulfport
Belleair
Port Richey